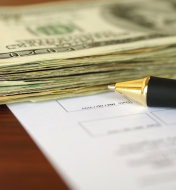 Being there for our customers is of the utmost importance at Blue Ridge Bank. Sometimes that means being there in person and other times that means offering time-saving services that help you navigate banking at your own convenience.
Either way, feel free to take advantage of our helpful resources and contact information to complete your banking needs with ease. As always if there's something specific you're seeking or you just simply have a question or comment, feel free to contact us at any time. We can't wait to hear from you!
Coin Counting Services
A bulk of loose change can be nice for a rainy day, but not necessarily for hauling around regularly. That's where our convenient Coin Link change counting machine comes in handy. Simply pour your loose change into the machine, sit back, and receive a receipt exchangeable for cash or a deposit directly into your account.
Coin Link is free to BRB customers and is located at the Main Office in Luray.
Direct Deposit
Direct Deposit of your payroll or Social Security benefits can be made automatically into your checking or savings account. Save yourself some time, energy, and avoid that extra trip to the bank to make a deposit.
Direct Deposit Set Up
For Social Security Direct Deposit, simply call 1-800-772(SSA)-1213, or stop by one of our offices and complete a Quick Start form, we will take care of the rest.
For payroll deposits, contact the employer that will be directly depositing your pay into your BRB account. You will need to provide your employer with our bank routing number (ABA #051402372) and your account number.
Notary Services
Get your important paperwork signed by our certified notaries. Notary Services are available to BRB customers at no charge. For your convenience, please try to call in advance to be certain an authorized notary is available.
Gold Medallion Signature Guarantee
A special signature guarantee required for the sale or transfer of securities. Gold Medallion Guarantees are available to BRB customers at no charge. For your convenience, please all in advance to be certain an authorized individual is available to guarantee your signature.
Safe Deposit Box Rentals
Add peace of mind by adding a safe and secure place to store your valuables. Safe Deposit Boxes are available to all BRB customers. Annual rental costs vary depending on the box size you select.
Please contact us for more details — any bank representative will be glad to assist you.
Not FDIC Insured
Stop Payments
If you do not want us to pay a particular check that you have already written, you can stop it before it clears by placing a stop payment. Initiate a stop payment by stopping by any of our branch locations or by calling us. We must receive your request within a reasonable time to act on it before our stop payment cutoff time.
Note: If the request is made by phone, you must stop by a branch location to sign the Stop Payment Order within 14 days, or it will automatically be released.
See Disclosures for additional information.
Wire Transfers
We offer our customers both domestic and foreign wire transfer services. To arrange for wire transfer services, contact a bank representative for details.