We are very pleased to announce our partnership with Larson Wealth Management and LPL Financial.
Larson Wealth Management offers a wide array of Financial Planning Services for Individuals, Families, and Small Business Owners, including:
Wealth Management
Risk Management
Estate Planning
Charitable Planning
Retirement Planning
Succession Planning
Visit www.larsonwealthmgt.com for details regarding these services or contact us to request further information.
Securities and Financial Planning offered through LPL Financial, a Registered Investment Advisor, Member FINRA/SIPC. Insurance products offered through LPL Financial or its licensed affiliates. Blue Ridge Bank and Larson Wealth Management are not registered broker/dealers and are not affiliated with LPL Financial.
If you are a current LPL customer, you can log in to manage your account online.
About Us
Learn about Larson Wealth Management
We are an independent financial services and wealth management firm located in Harrisonburg, VA and serving the Shenandoah Valley. We serve our clients through an academic and thoughtful approach to wealth management as we help "pilot" your financial plan throughout your lifetime and to the next generation.
Together, we will make decisions using our experience, academic research, thoughtful questions, and enabling technology.
Philosophy
We believe that the key to any well-executed financial plan is to spend our time and energy focusing on what we can manage, rather than worry about all of the things that we cannot. All too often, investors make decisions based on guesswork and prediction, rather than academic research. We focus on what we can manage: overall portfolio risk, diversification, expenses, and taxes, and strive to provide a better investment experience for our clients.
We also believe that there is a direct correlation between risk and expected return. If one hopes to pursue a return greater than inflation, then one must be prepared to take an equivalent amount of risk. Our mission is to ask the right questions to discover the most appropriate investment allocation for you and your family.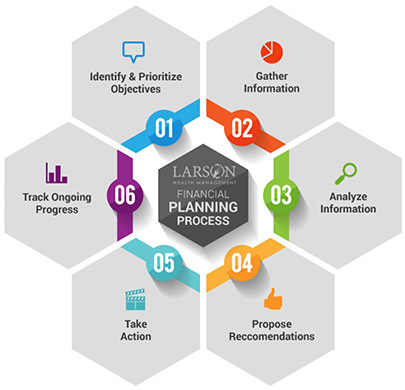 Process
Each new client meeting begins with an open-ended discussion to better understand the challenges and opportunities that may lie ahead in your financial planning. We take the time to get to know you and your unique circumstances by asking pertinent questions and gathering quantifiable data. Together, we then discuss expectations and strategies for the best path forward. We offer a complimentary initial meeting.
After the initial meeting, we work to firm up all of the financial information and create a list of planning considerations. We then work together to prioritize this list and begin making decisions as appropriate. Often times, by request, we schedule meetings or conference calls with your CPA, attorney, or other trusted advisors.
We then carefully implement the plan and then monitor it and make changes as needed. After the plan is complete we decide how often we need to meet going forward, keeping an eye on the big picture, while working to maintain the right allocation, striving to minimize taxes, and discussing new opportunities as they arise.
Guided Wealth Portfolios
Start Investing for Your Future Today
Invest for your future with our new online platform that combines the benefits of a personal financial advisor with sophisticated technology. You still get the BRB experience and expertise, but with the added convenience and transparency of an automated investing solution. Guided Wealth Portfolios (GWP) provides you personalized, objective investment advice through an online platform with 24-7 access to your accounts.
While other digital investing solutions, or robo advisors, offer online investment management, most don't include a direct personal relationship with a dedicated financial advisor. With GWP, we'll be your personal advisor [team], dedicated to you and your goals, helping to guide you through the investing process. Our Guided Wealth Portfolios service offers:
Personalized planning, service, and advice: The path to your financial goals is personalized for your specific stage in life, and will change as your life changes. If you ever have any questions, your advisor is only a phone call away.
Intuitive, intelligent technology: See your GWP accounts in one place, open new accounts, view your portfolio, and make updates via your personal portal. The technology makes the process fast and easy.
Advanced wealth management at a lower cost: We can implement your personal roadmap using proven investment techniques. Receive allocations designed for you and your savings goals, and benefit from trading techniques that may increase diversification and can help reduce taxes.
Whatever your retirement goals, we can help you.
Intelligent Investing
Guided Wealth Portfolios offers investment management designed to protect your portfolio against volatility and help you pursue your financial objectives. By investing with us, you receive:
Personalized roadmap – Based on your goals, investing time horizon, and risk preferences, you'll receive an investment allocation and roadmap designed to help you pursue your objectives. As you get closer to retirement, your allocations will gradually change.
Holistic advice – By considering your retirement objectives and investments, our analysis allows you to work toward your investment goals.
Tax-efficient investing – Through advanced asset analysis, we'll allocate your assets in a tax-efficient manner, and evaluate the tax impact of each trade before it goes through.
Consistent monitoring – Your portfolio is monitored daily, keeping it on track as markets move, and rebalancing it as needed.
Tax-loss harvesting – If an investment experiences a loss, we may sell it to offset taxable gains in your portfolio. The investments sold are replaced by similar investments to maintain your asset allocation, so you get tax benefits while keeping a properly diversified portfolio.
Financial advice – We're available if you have a question about your account or investing strategy.
Start Today
Get your dynamic proposal and start investing for your future today.
All investing involves risk including loss of principal. No strategy assures success or protects against loss. There is no guarantee that a diversified portfolio will enhance overall returns or outperform a non-diversified portfolio. Diversification does not protect against market risk.
References to tax strategies that the GWP service investment management considers in managing accounts should not be confused with tax advice. LPL Financial does not provide tax advice. Clients should consult with their personal tax advisors regarding the tax consequences of investing.
Securities and Insurance Products:
NOT A DEPOSIT • NOT FDIC INSURED • NOT INSURED BY ANY FEDERAL GOVERNMENT AGENCY • NOT GUARANTEED BY THE BANK • MAY GO DOWN IN VALUE
Securities and advisory services offered through LPL Financial, a registered investment advisor, Member FINRA/SIPC. LPL Financial and the bank are not affiliated. Products and services made available through LPL Financial are not insured by the FDIC or any other agency of the United States and are not deposits or obligations of nor guaranteed or insured by any bank or bank affiliate. These products are subject to investment risk, including the possible loss of value.